Women's Day
When Is International Women's Day?
8th March is the day on which the world celebrates International Women's Day every year. The commemoration of this day around the world started when the UN declared it in the year 1975, as a day to recognize women's struggles and draw attention to them. Women's day was celebrated on different dates locally before it got global recognition.
What is the Significance of International Women's Day?
Women's day is celebrated to acknowledge and recognize all women's lives and the ways in which they affect all lives they touch. Not just that but also to appreciate the efforts they take on a daily basis in a society that is predominantly oppressive towards them. This day serves as a reminder to them that their struggles over generations are seen and deserve all the support possible.
For generations, women throughout the world have been repressed and have faced struggles due to patriarchal societies. Women throughout the world on average receive 30 to 40 percent lesser pay than men get for the same work. Women have had to and in some places still continue to fight for ac lot of basic rights. This day serves as a reminder about all those problems women have to face in every walk of life. This day also serves and works as a day to observe and honor all that they have overcome and achieved in various fields and in society, as a whole.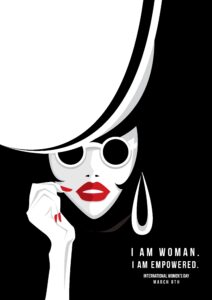 Check Out Lafleur Special Offers on Flowers for International Women's Day!
What is International Women's Day Theme 2021?
For the year 2021, "Choose to Challenge" has been declared as the theme for Women's Day. It has been selected as the theme to challenge the pre-existing gender norms. It aims at getting individuals to challenge stereotypes that prevail in society. To get them to look outside the boxes that society generally tries and fits them in. It looks at getting people to use these stereotypes as their "wings". Its goal is to get people to speak up against various issues like racism and sexism, playing a part in changing the narrative and putting a stop to these oppressive and recurring issues. It wants to get people to call them out at home, work, school, and on whatever other levels they can. The theme portrays this belief that the individuals today are greater than just reflections of the past. It expresses that this new stronger society didn't need these older unfair means.
What are the Colours of International Women's Day?
Purple and Green are the colours that are generally associated with Women's Day. Purple has in the past signified things like justice along with dignity. Today, purple functions as a colour that is used widely to symbolise women. Green has been connoted to mean hope. White is another colour that is linked with Women's Day. In the context of women's day white represents purity. You can find bouquets with flowers of the above-mentioned colours at La Fleur, your go-to florists for all occasions
With this, we aspire to commemorate all the women in your life who play a role in making not just their own but the lives of everyone around them more beautiful. They hand down play a major role in the growth of any individual at all points in their lives. Mothers, sisters, friends, partners or in any other capacity, they are an integral part of everyone's support system.
---